Blue Relay By
Industry
Compliance, Workflow Automation,
and Resource Management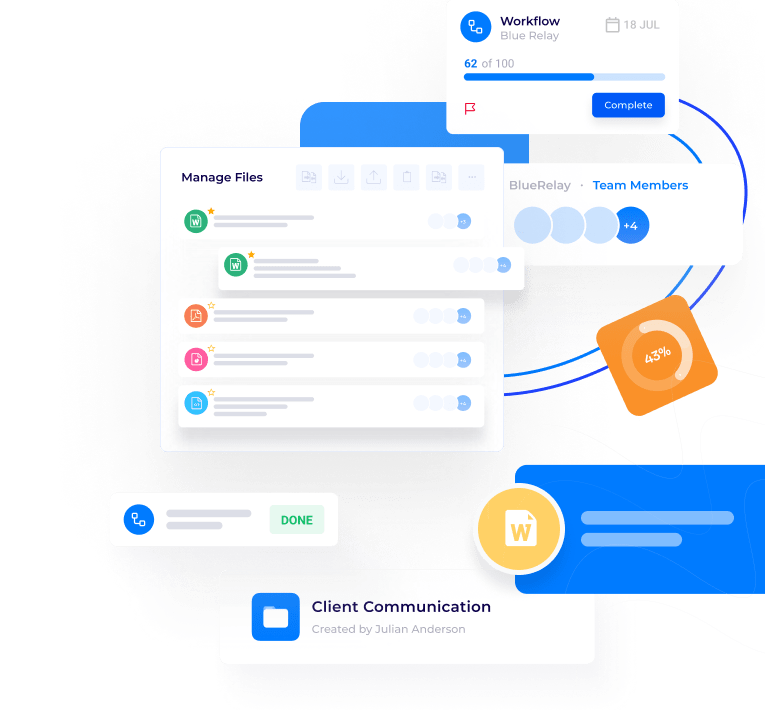 Blue Relay Benefits for Insurance
High Quality Documents
Custom Checklists removes human error by enforcing process standards for the entire team.
Document Compare simplifies versioning by providing side-by-side presentation of document versions and revisions.
Full Compliance and Audit Trail is available as customizable reports that provide complete transparency in processes, system access, and activity.
Streamlined Team Collaboration
Custom Roles simplify the allocation of access rights and task assignments in high-paced, complex environments.
Comments and Notifications in Blue Relay are associated directly with documents avoiding Email organization issues.
Shared Annotations and Issue Tracking allow any team member to jump in and help with reassigned tasks.
Improved SLA Compliance
Automated Review and Approval helps team members focus on critical tasks and ensure that the information necessary to complete the tasks is at their fingertips.
Complete Transparency into job status, team workloads, and deadlines allows managers to identify bottlenecks and areas of compliance risk.
Workload Management Tools give Managers the ability to assign and reassign tasks directly within Blue Relay.
Pharmacy Benefit Managers
Express Scripts Inc.
Pharmacy Benefit Managers like Blue Relay client ESI deal with large volumes of member materials that need to be quickly processed, while maintaining content accuracy and compliance. Blue Relay has enabled ESI to quickly respond to a changes in regulations, policies, and member populations without sacrificing document accuracy.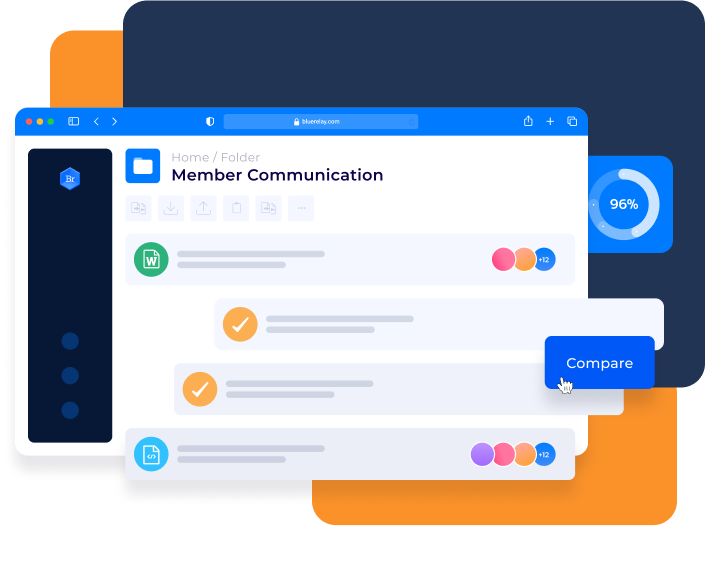 Blue Relay Benefits for Pharmacy Benefit Managers
Error Free Member Materials
Document Compare accelerates document review and approval, enabling confirmation of changes at a glance.
Custom Forms and Checklists systematize and enforce client SLAs minimizing human error.
Issue Management enables the detailed tracking and resolution of every issue regardless of how minor, ensuring comprehensive improvements between versions.
Shortened Time to Production
Automate Workflow Orchestration enabling team members to focus on business-critical tasks.
Manage Teams within Blue Relay so that tasks can be assigned or reassigned based on employee workload.
Integrate Inside and Outside the Organization by leveraging built-in API Support.
Easy Auditing and Transparency
Detailed Audit Reports record all user activity, providing comprehensive data for any compliance, governance, or audit requirements.
Role Configuration can automate and restrict access to tools or resources for improved security.
Configurable Dashboards can provide Managers total transparency into job status, team workloads, and deadlines in one place.
Communications Service Providers (CSP)
Healthcare Communications require teams of editors to create, version, and finalize large complex documents such as ANOCs, EOCs, and EOBs. One CSP has integrated Blue Relay as a part of their platform, allowing their clients to reduce the total effort for healthcare campaign implementation.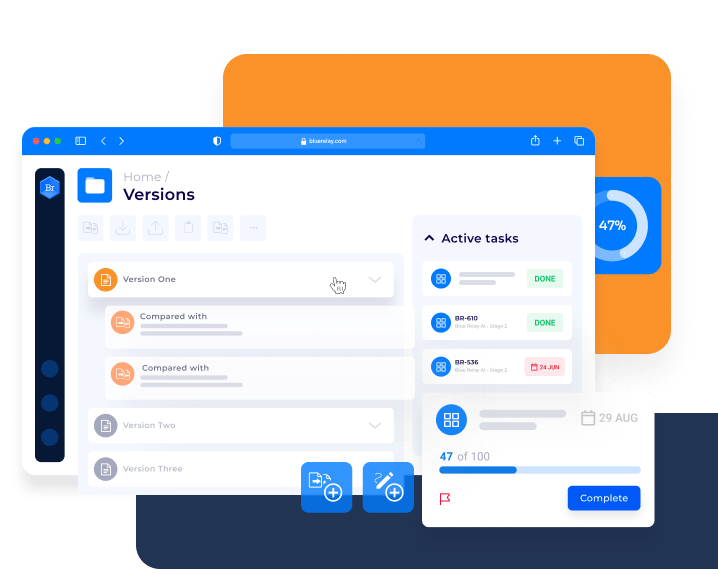 Blue Relay Benefits for Communications Service Providers
Deliver Quality Documents On Time
Checklists and Comments allow stakeholders to pinpoint content feedback, reducing costly and error-prone editing iterations.
Custom Audit Reports track and audit requests from clients for comparison against delivery.
Issue Tracking ensures content authors are able to complete exhaustive rounds of edits, saving resources and elapsed time to completion.
Simplified Integration
Comprehensive API Support simplifies the integration of Blue Relay with existing software solutions.
Content Management Integration allows our clients to store and manage their documents in one place, without requiring migration to the Blue Relay document storage.
WebDAV Integration allows users to open and save Word Documents directly in Blue Relay as a revision.