It's clear that businesses are craving collaboration and control in their work environments, and looking for a robust solution to solve their time management woes. And as changes in business processes become inevitable, companies need to not only welcome critiques but find new efficiencies to handle their growing workloads. Enter Elysium Compare – our document comparison tool trusted by the enterprise to keep track of content changes in a standardized, structured way.
Year over year (or more often in many cases), new versions of materials are being designed, developed and distributed to individuals and organizations by mail, web or countless other mediums. With strict deadlines for regulated communications, often there is a battle between speed and accuracy . Streamlining the development process allows for higher quality content, greater accuracy, ability to meet SLA, and reduction in time management costs, all which provide greater competitive advantage.
With Elysium Compare, the engine behind Blue Relay's document compare feature, you're not forced to choose between speed and accuracy – you get both.
What does Elysium Compare offer?
Our intuitive batch compare tool is essential for organizations who house a plethora of documents and need a reliable system to streamline their processes. When it comes to our more regulated industries, such as healthcare, imperfections can cost millions of dollars at certain volumes. A side-by-side document compare engine allows you to accurately identify changes between document versions with all changes recorded and a full audit trail of changes. This significantly improves the quality and accuracy of communications to meet compliance regulations, improves scalability and cuts out tedious tasks that waste valuable time and resources.
Elysium's new updates and improved features are now unlocking even more possibilities for managing your workloads and delivers results quicker than ever . So far users have achieved a 25% improvement in batch compare speeds, and can easily compare a document of over 1000 pages quickly and accurately. This paired with our robust version control drastically saves you time, improves tracking and overall document management.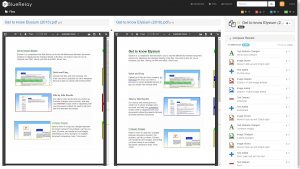 What changes are detected?
When it comes to the compare results, Elysium Compare focuses on document content and flow. This includes:
Text Manipulation – detects words, sentences or paragraphs (or even letters) being added or removed
Image Changes – detects images being added, removed, moved within the document or modified/replaced
Font Differences – detects changes such as the size of the text or font family that is used
In the image above, the changes are showcased on the right panel, all of which can be selected to find the adjustment. The record of changes is also shown below.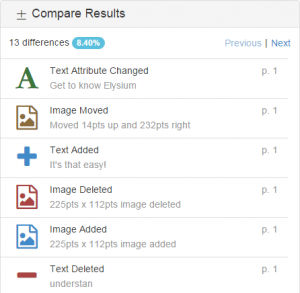 Understanding the results
Detecting changes is important, and should not be overlooked when evaluating various compare tools; however, displaying the differences in a clean, easy to understand manner is critical. Blue Relay uses a side-by-side view of the results so that you can see the changes directly on the original documents instead of a reduced, text-only interpretation of your complex documents.
Let us show you today! Contact us for a brief demo.
Easily manage your processes, materials and teams with Blue Relay.
Try Blue Relay for Free
Start bulk processing your documents now with a secure, cloud-hosted, instance of Blue Relay.
There are no restricted product features and we can provide you a complimentary white glove experience to get you onboard quickly.
It's completely free to use for 60 days – no credit card, no hassle.