Well, National Proofreading Day is upon us. They sure have a day for everything, don't they? But we couldn't let this one slip away. After all, it aligns closely to a larger issue that we help solve and is dear to our hearts. Yes – you got it – having utmost accuracy in content and communications. Properly curated content is not only a display of professionalism by your company, it is absolutely essential for the continued credibility of your business and is a critical part of day-to-day risk management.

Accurate Information Reflects Your Company's Value and Credibility
All communications are, in one way or another, a representation of the company. Grammatical errors, spelling errors, and incorrect information quickly creates doubt and/or distrust in the value of the products and services of your company. However, the absence of attention to detail starts to reflect on more than just the credibility of a company; it can result in providing misinformation or sending sensitive information to incorrect people. These scenarios can have significant consequences when it comes to misuse of personal and confidential information. And, when you're talking about sending health-related information, the consequences can be grave.
Your Process Impacts Accuracy
Even in a world where our standards are quite high, largely due to strict regulations, errors continue to be made. The challenge is in the process – without the proper support and processes in developing communications, errors can easily be made. Your team needs to have the appropriate time to complete their work as well as efficient processes and tools to help them remain diligent. When they have confidence in their work environment and processes, they are enabled to perform better. Naturally, the possibility of miscommunication and error is minimized.
So, on this National Proofreading Day, allow us to walk you through how Blue Relay can streamline content-related processes and significantly improve efficiency, accuracy and risk management.
Live Dashboard Provides Quick Access to All Documents in Review
With our real-time dashboard, activities are fully tracked. You can quickly view all priorities, workloads, bottlenecks, and due dates. This gives you and your team clarity on what's coming down the pipeline, where work is stalled and who needs assistance.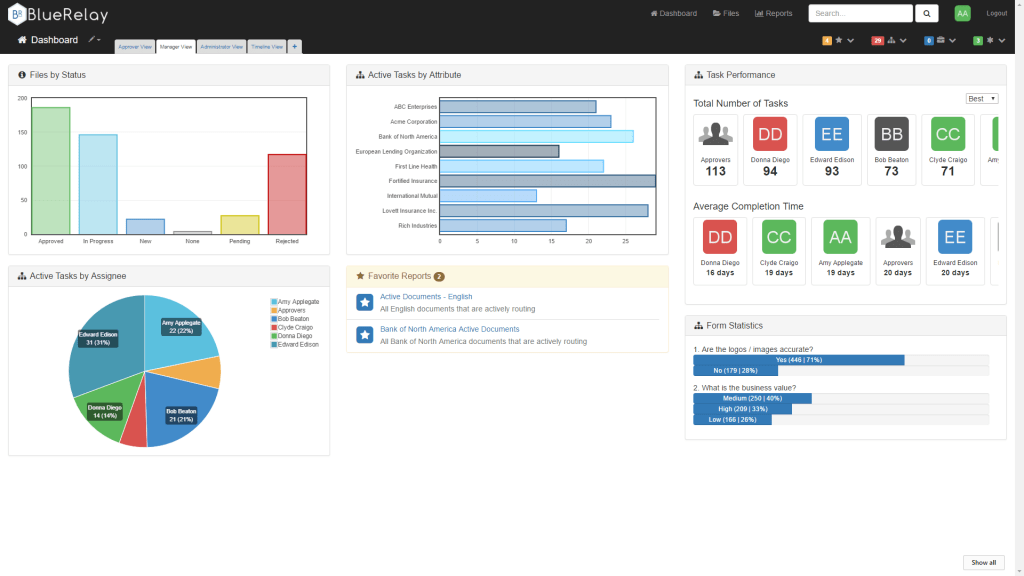 Automated Workflow to Accelerate Review and Collaboration
Tools and processes that make it easy to collaborate and manage deadlines ensure the document has been reviewed correctly, by the right people and within the right timelines.
Our digital workflow enables the automatic hand-off and facilitation of processes between staff. Equipped with email notifications and informative dashboards, it's easy to keep track of when tasks are due. The workflow allows you to circulate content quicker than manual processes and track every move.
Blue Relay facilitates collaboration regardless of the distance or separation of the team. It enables speedy allocation of tasks and immediate response as content and documents are built – and notifications are customizable. With such a feature, deadlines get met and accurate content gets timely approvals.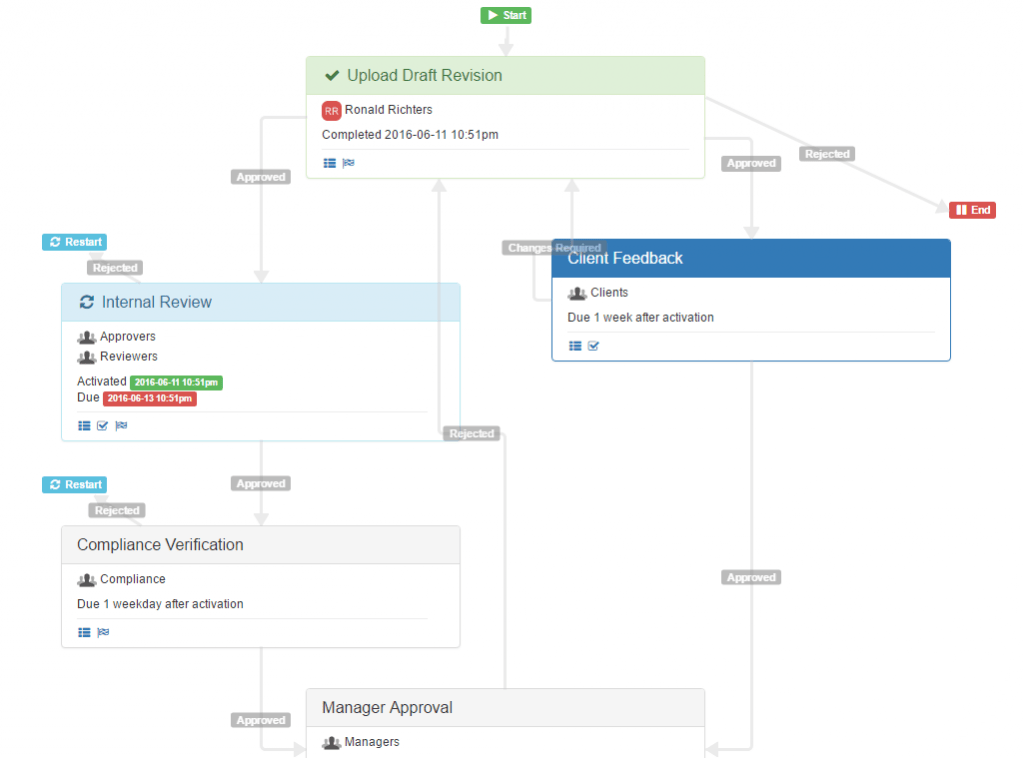 Compliance Checklists
You can minimize risk and error with compliance checklists embedded in every stage of review. The checklist ensures each content piece is reviewed per spec and regulation, bringing much more clarity to the review process. This is extremely helpful when new employees are onboarded or someone is on vacation as all checks are clearly laid out for the reviewer. Now you can do away with errors, simplify approvals and spend much less time in review.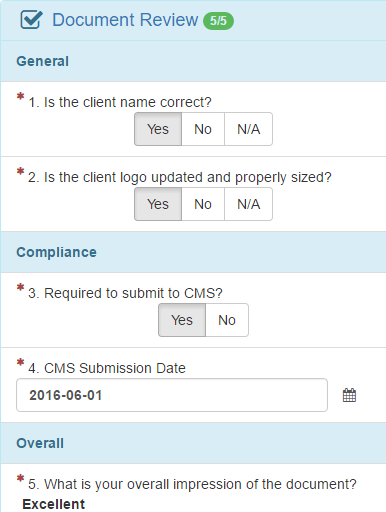 Smart Side-by-Side Document Compare
The Blue Relay comparison tool allows you to fully understand and follow the edits and changes that exist in documents of different versions by directly showing the variations in the files. You can upload your file with ease and speed, generate side-by-side results, and compare images and files of different formats be it word, excel PDF or PowerPoint. Without this tool, a simple typo, phone number change or sentence fragment could have easily slipped past the manual review process – not anymore!

Enabling Contextual Feedback and Version Control
Content reviews are very contextual to documents, versions, programs and more. It's important that feedback is directly related to each document review and can be easily associated to each document. Blue Relay facilitates contextual feedback by ensuring all comments and adjustments are connected with each version and can easily be found. It's now easy to manage content review cycles with contextual feedback and have clear version control that is fully-tracked.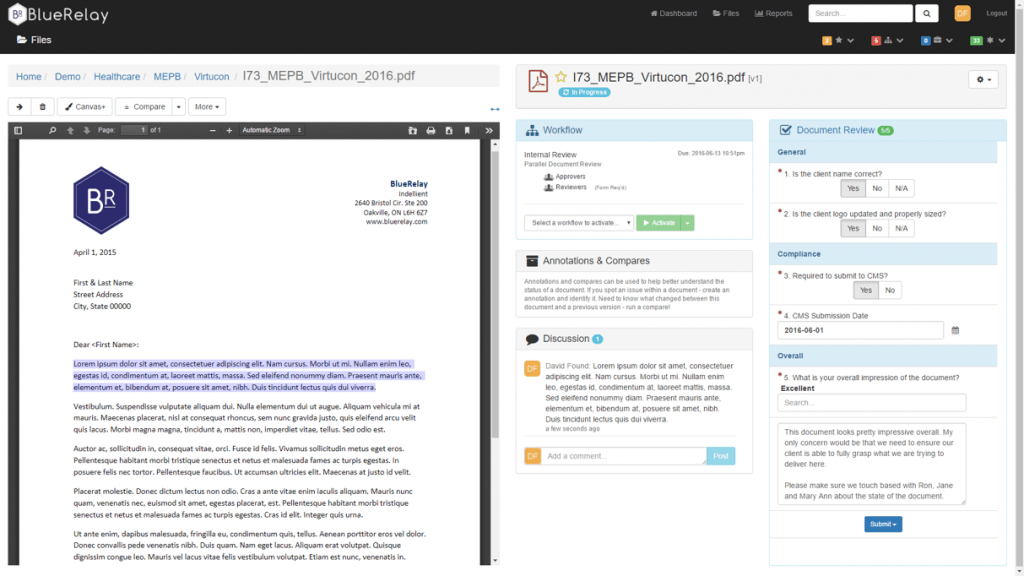 Get Ahead with Blue Relay
With accurate and timely communication in the health insurance sector being so critical, the Blue Relay solution ensures that any communications with members is timely, correct, and compliant. It's what we do at Blue Relay. We take the risk out of content creation and communication so you can focus on adding value to the lives of your members.
Additional Proofreading Resources
Document reviews can indeed be a difficult task, but don't worry if you're not an expert in proofreading. Here are some resources and tips in reviewing documents that will help you to perfect your grammar, punctuation, spelling and definition skills:
Grammar Girl
The author of Grammar Girl is Mignon Fogarty. She has authored a number of books including: Order of Adjectives, The Grammar Devotional, among others.
National Punctuation Day
The founder and CEO of National Punctuation Day is Jeff Rubin. Check out more on his website.
Grammarly
Online proofreading tool that checks text for grammar, punctuation, and style, and features a contextual spelling checker.
Hemmingway Editor
Hemingway App makes your writing bold and clear. The app highlights lengthy, complex sentences and common errors
The Purdue Online Writing Lab (OWL)
Serves writers from around the world.
By The Way, Did You Want to Know How Proofreading Day Started?
Proofreading Day was created in 2011 by Judy Beaver in commemoration of Flo, her mother. Judy recounts that it was her mother's cherished habit to correct people that prompted her to start nationalproofreadingday.com. With such a kind of a mother, how else could you truly remember her? Well, as per Judy, she created the National Proofreading Day on the birthday of her mother as a unique, yet very suiting, way to remember her and to encourage people to spend quality time in reviewing their content pieces.
Try Blue Relay for Free
Start bulk processing your documents now with a secure, cloud-hosted, instance of Blue Relay.
There are no restricted product features and we can provide you a complimentary white glove experience to get you onboard quickly.
It's completely free to use for 60 days – no credit card, no hassle.