Blue Relay brings visibility and control to your communication development processes, and ultimately saves you from monetary loss. But many don't think about the indirect return on investment (ROI) – that is the long-term value that isn't monitored by direct cost – that is accrued by implementing BPM software into their organizational fabric.
Examples of indirect benefits of BPM are:
Better collaboration across the organization;
The centralized location of documents, files, and folders;
Ease of onboarding new clients and employees; and
Greater compliance adherence to regulations.
Today's information worker needs the right tools to get the job done quickly and seamlessly and to remain productive. However, significant time is lost due to challenges related to working with documents. Wasted time costs each organization approximately $19K per information worker per year, amounting to a loss of 21.3% in the organization's total productivity, according to an IDC study. As well, studies show the average time an employee wastes searching for documents is 2.3 hours/week and the average time employees spend recreating documents because current versions cannot be found is 2 hours/week.
Organizations must take a hard look into their processes and determine if not being internally set up is worth all the time and money being squandered without BPM solutions in place.
Measuring ROI isn't just about losing money, but about determining where the bottlenecks lie that can derail a company's success. Here are some examples of low-ROI generating situations:
Cost 1: Loss of Productivity
IDC found that knowledge workers spend an average of 8.8 hours per week searching for information. If the average knowledge worker gets paid $80,000 annually, 8.8 hours per week from a single employee costs the company $14,209 per year.
Cost 2: Duplicated Work
BAE systems (a defense and aeronautics manufacturer) found that 60% of networked employees were unknowingly spending an hour or more per day duplicating the work of someone else in the company. Duplicated work can cost companies a whopping $5,000,000 per year.
Cost 3: Other Costs
And then there are some costs that cannot be measured with numbers but still have the same affects as a financial loss. This includes frustration and job satisfaction of knowledge workers, inability to provide information to customers and poor decisions based on the lack of, or faulty information. This inevitably leads to loss of revenue, though measured or not.
What Blue Relay can Accomplish for your ROI
Blue Relay has been able to streamline communication review, edit and approval processes resulting in improvements in efficiency and improving optics during review and approval cycles. It has been able to:
Reduce the number of different versions for each document;
Reduce the number of past due tasks by teams; and
Improve productivity thereby reducing amount of time required to complete tasks.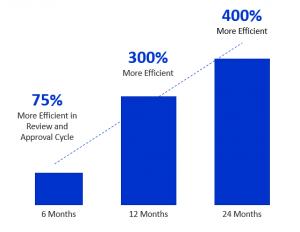 Yes, measuring ROI is extremely important for companies to determine how their solutions are performing. But this must include taking a subjective assessment of value and taking note of the indirect ROI generated from BPM software.
Want to learn more about Blue Relay's top features? Read this blog.
Easily manage your processes, materials and teams with Blue Relay.
Try Blue Relay for Free
Start bulk processing your documents now with a secure, cloud-hosted, instance of Blue Relay.
There are no restricted product features and we can provide you a complimentary white glove experience to get you onboard quickly.
It's completely free to use for 60 days – no credit card, no hassle.