According to a recent survey released by InfoTrends in collaboration with Quark Software Inc, the average company spend on content-related technologies was $801K. The Content Automation Survey which included results from 151 businesses worldwide (majority based in the US) went on to say that spend is expected to increase significantly over the next five years. But how do we know we are being efficient with our spending? Where are the gaps that still remain in content solutions? First, let's examine the reason why there is a push for content technologies and automation.
Examining the gaps in content automation
Automation alone allows an organization to reduce manual and mundane tasks to increase productivity thereby allowing for more resources to be allocated to improving customer satisfaction and competitive advantages. As noted across multiple industries, the most important reason for content automation is to improve customer experience and engagement. After all, in 2016 and the years to follow, happy customers are key to business success. This is well noted through the Content Automation Survey as 50% of respondents stated that increasing customer satisfaction is a high priority.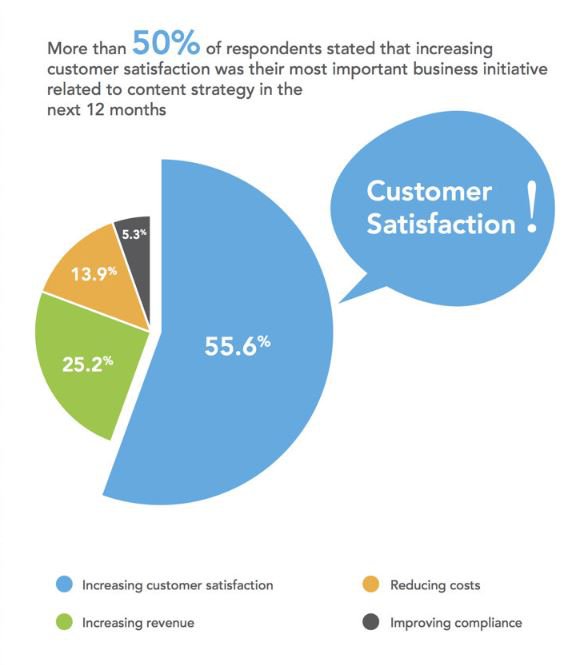 As multiple industries look to enhance customer experience by increasing efficiency and effectiveness in internal operations (automation), there are certainly challenges.
Here are a few as noted through the survey:
Solutions need to support automated content updates
Many survey respondents noted that a large amount of time is dedicated to the creation, review, approval and re-purposing content designed to improve customer experiences. Manual processes related to these tasks further waste time and reduce overall productivity. Having greater visibility into document review processes and the entire document life-cycle gives organizations a platform to improve. Furthermore, flexibility, configurability and interoperability in technology solutions is essential in the ever-changing content landscape. An organization must be well equipped to adapt and change quickly.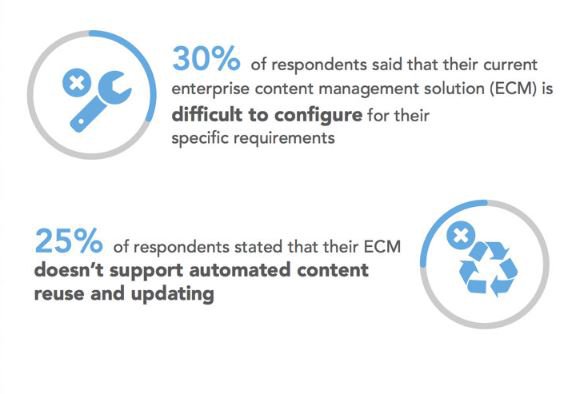 Technology that meets business needs
Technology is an efficiency builder. It can alleviate tedious and repeatable tasks and it can increase the speed with which tasks can be completed. Yet, there are still many improvements needed in the tools that we use. According to the survey, 70% found email to be inefficient in reviewing and approving content. And over 50% of respondents stated they find PDFs difficult to review and annotate. Powerful review tools and intelligent workflows integrated into your Enterprise Management systems via API can significantly increase efficiency.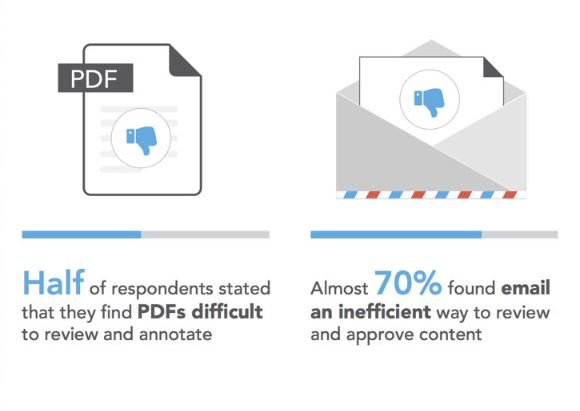 Content inconsistencies amongst various channels
About 60% of respondents say they are not confident that their content and material are consistent across all channels. Smart review tools should enable reviewers to easily check if a document meets branding and content guidelines. One way is through embedded checklists for each review stage to ensure documents meet set standards.
76% of respondents say they want to create and deliver more content. Clearly operational efficiencies need to be optimized to better scale and support the forecasted increase.
The key to finding a technology solution that meets your needs, is to ensure it satisfies these components: flexibility, configurability, visibility and interoperability. As many internal and external factors continuously adjust the business landscape, it's more important than ever to incorporate solutions that are agile to meet your needs now and in the future.
Try Blue Relay for Free
Start bulk processing your documents now with a secure, cloud-hosted, instance of Blue Relay.
There are no restricted product features and we can provide you a complimentary white glove experience to get you onboard quickly.
It's completely free to use for 60 days – no credit card, no hassle.