Customer Communications Management and Document Workflow in One Solution
Manage your Customer Communications, Business Processes, and Team Workload in One Solution.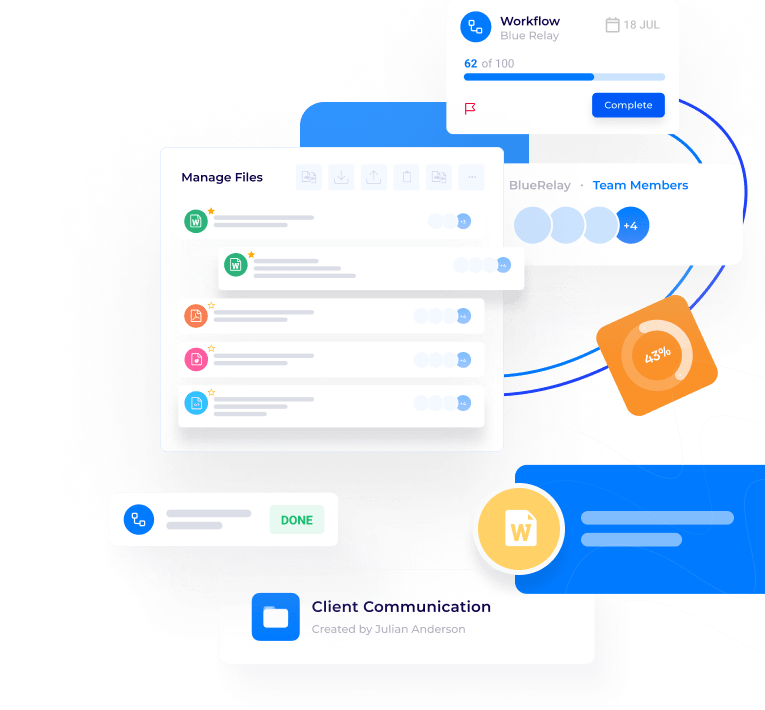 Blue Relay: All-In-One Solution
Streamline document lifecycle management with Blue Relay by using workflows to automate your business processes, reducing processing time and improving document accuracy. Our built-in features include version control, issue management, markup and annotations, side-by-side document compare, Natural Language Processing (NLP), dashboards, workload management, custom reports and more.
Quality Assurance
Improve SLA Adherence and Compliance
Service Level Agreement (SLA) Adherence and Compliance are improved by powerful features supporting the exchange of detailed requests that include inline annotations, comments, document compare, and checklists. A Large Customer Communications Service Provider used these capabilities and more to significantly reduce operational cost, effort, and errors. Proof of the value of Blue Relay to our clients has been demonstrated by their growing adoption of the product, empowering increased portions of their workforce.
"Blue Relay user adoption has increased by 400% from the originally intended user base. Client and user adoption is expected to increase significantly in the coming year."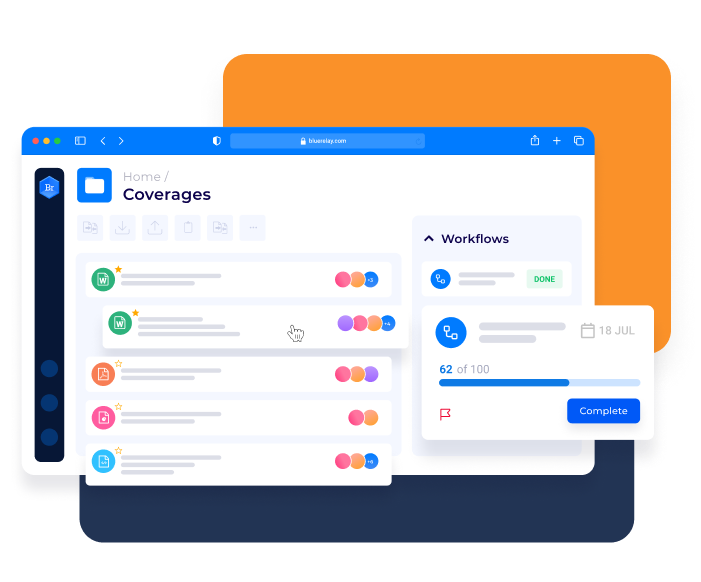 Blue Relay for Communications Service Providers
Checklists Provide Process Guardrails : Custom checklists make sure critical processing steps are followed consistently and uniformly across the team.
Document Compare for QA: Document comparison and versioning confirm updates are correctly implemented across all identified issues for a particular document or template version.
Audit Ready: Blue Relay maintains a full audit trail of document changes and who made them.
Workflow Automation
Automate Workflows & Business Processes
Workflow Automation, Custom Checklists, and Document Compare features improve SLA Adherence and allow clients like Express Scripts Inc. (ESI) to reduce errors in highly regulated member materials. ESI Benefit Managers face strict regulations aimed at delivering accurate and timely plan information to members.
"ESI gained full visibility of the material lifecycle to pinpoint exactly what changes need to be made and which documents have been approved with real-time status."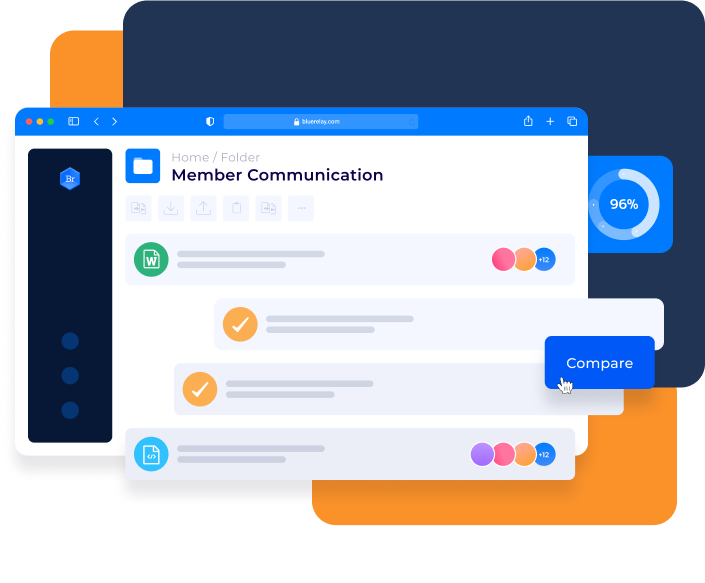 Blue Relay for ESI
Workflow Automation: Manual tasks were automated, allowing the team to refocus resources on higher-value activities
Process Insight: Team members gained full visibility into the material development lifecycle and could pinpoint required and outstanding changes at any instant in time
Significant Savings: Large program implementation savings were realized over four years of Blue Relay usage.
Workload Management
Streamline Workload Management
Blue Relay provides total business process visibility with real-time custom dashboards and the ability to assign and reassign tasks within teams. Real-time insights into task progress simplify the process of managing teams and balancing workloads.
"Blue Relay allowed us to easily replace our manual and time-consuming document management process with an automated and more efficient technical solution."
Director of Medicare Operations
Blue Cross Blue Shield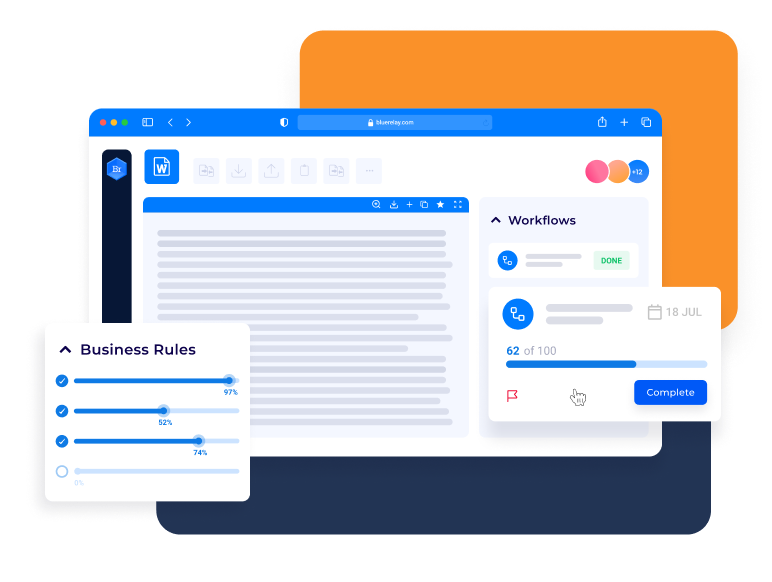 Blue Relay for Blue Cross Blue Shield
Improved Visibility: Project tracking through Excel and Email was eliminated
Workload Management: Employee workloads have become manageable, even during peak campaign periods
Easy Collaboration: Discussion Boards and Inline Annotations made document collaboration easy
Don't See the Use Case you were Looking for?
Blue Relay also solves challenges in other industries. Schedule a no-obligation meeting with our Customer Success Team to learn more about how Blue Relay can solve your business process and document automation needs.
Try Blue Relay for Free
Start bulk processing your documents now with a secure, cloud-hosted, instance of Blue Relay.
There are no restricted product features and we can provide you a complimentary white glove experience to get you onboard quickly.
It's completely free to use for 60 days – no credit card, no hassle.